Human Aura Colors And Meanings With The Interpretations
Eloryia RA is the verified author of this guest post.
With human aura colors and meanings you are in essence a living rainbow. Just like many of the non-physical messengers surrounding you as spiritual guides! Each color in your aura is the combination of the electromagnetic frequencies emanating from your body. 
Your aura field, where all of the colors are constantly shifting and changing, reveals to the fine tuned psychic eye, as well as the very developed physical eye, your thoughts, emotions and actions in the present, the past and can also give you a very clear idea of where you are headed in the future.
You can use this article about the human aura colors and meanings as a simple reference guide to learn about each color in your aura as well as some combination of aura colors. Yet it is important to understand each individual color that might appear consistently or temporarily in your aura also has meaning to how it specifically relates to you.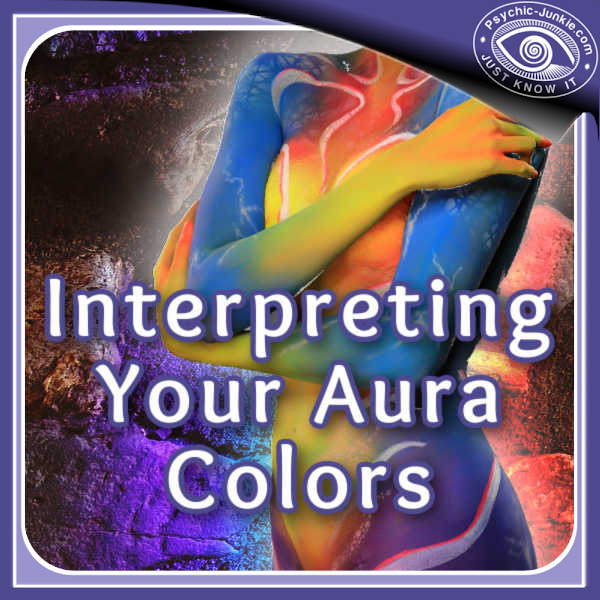 In an interpretation of the human aura colors and meanings, an aura yellow green combination, as well as each and every aura color and/or aura colors combination present in your aura can have both a negative and positive meaning. Each aura color and in what shape or form it appears is giving you an opportunity to be aware of and continue with your healthy behavior patterns that are propelling you towards your dreams and/or helping you be aware of any unhealthy negative behavior pattern/s that needs to be addressed, healed and overturned.

As follows, below the examples of how the human aura colors and meanings have been revealed to me and how they translate for you in terms of my aura paintings, aura portraits, readings and or consultations. 
Each of these colors, if present in your aura, may also appear in a form or shape, which also have specific meaning to you. This is important to understand, as each symbol and how it is colored is unique unto itself and although the colors and forms have a generalized meaning, your aura will reveal how it specifically pertains to you. It would be almost impossible to address all the color combinations that are exposed your aura and the forms or shapes it takes, nonetheless, the aura color combination in an aura yellow green has a general meaning as well as a specific one for you.
What are the human aura colors and meanings?
Orange human aura colors and meanings. Orange is the color of the naval Chakra and if appearing in your aura is the color of inspiration; meaning in Spirit. If you have a lot of orange in your aura, then you have recently been inspired to do something, say something, express some part of the true divinity of you. If the Orange is muted with an overlay of other colors crossing over it, then you have not been paying attention to your inspiration, the speaker of your feelings coming from your heart's desire.
Green usually means the lively, fun Arch Angel Raphael is about you, as he is not just the master of the elementals, but the master of healing as well. Green the color of the heart Chakra and when green appears as a vibrant emerald green it is telling you that you not only have an immediate opportunity to heal anything but that you may also be a healer in some form as well. Depending on where it is positioned in your aura field it will reveal what exactly needs to be healed within you and whether it is seated in your mental, emotional, physical or spiritual body. 
Blue is the aura color of the throat Chakra and when the color blue appears, especially that of a cobalt blue you are usually gifted with multiple communication skills. When appearing in its negative aspect this usually states that you have difficulty speaking up and it is time for you to be your truth by speaking your truth. Blue can also disclose whether the masculine aspect physical role model was either present or absent in your life. 
There are multiple more subtle aura colors, like turquoise, magenta, silver and gold. These colors have were not often spoken of in the past because they are beyond that of the interpretation of the physical colors of the rainbow and have only been appearing in aura fields in the past decade or so.
You may be predominately displaying one of these specific higher dimensional colors or a combination of turquoise, magenta, silver or gold and including the complete rainbow of colors within you.
My pick for Aura products from Amazon, publisher may get a commission

---
---
Keep your kindred spirits informed by sharing this article . . .

---
---
Author - Eloryia RA
---
Eloryia RA, who is more commonly known as the Angel Lady, is a Radio host, featured television guest, a Spiritual Life Coach, Transformational Healing Facilitator and Workshop Leader. Eloryia combines her multiple talents as a clairvoyant, visionary artist and photographer in her work with human aura colors and meanings. She gracefully guides her clients into the life they dream of. She is also a teacher of the One Mind Counsel , the creator of The Ascension Program; a conscious plan to successfully change your life, based on the universal laws of One. In her 25 + years of experience she has guided thousands out of their self-imposed hell into living a life likened to heaven on earth.
Website: www.eloryiara.com  (cannot be linked while site is not secured by https)
---
Wiki: Auras