Psychic Ads That Work
Tips for creating successful Psychic Ads.
Please consider these guidelines for compiling your psychic advertorials, or Google AdWords, when advertising your metaphysical services on Psychic-Junkie.com
These publicity guidelines for psychic services apply to all Psychics, Astrologers, Clairvoyants, Tarot Readers, Crystal Ball Readers, Palm Readers, Psychic Healers, and Charmed Spell Casters, who advertise their services here.
Your metaphysical advertising must not exploit vulnerable members of society or mislead them.
Psychic publicity should offer your services as a way of helping the client help him/her self to personal improvement.
Your adverts must not offer a guarantee (unless you can prove it)
Why run psychic publicity? Your market changes constantly. Life contains drama for most people at one time or another. Relationships begin or end, careers progress or decline, fortunes boom or bust – in short, life evolves and you need to expose your insightful abilities to connect at these points of life change.
Studies show advertising in all economies produces customer loyalty and long-term competitive advantages. So consider marketing continuously to keep pace with your competition. Psychic services are required in the heat of the moment and if your details are not seen at that time another advisor's will be.
The Internet is now a mainstream mass-market medium for advertisers and paranormal business is no exception. You really should be going online to reach your customers.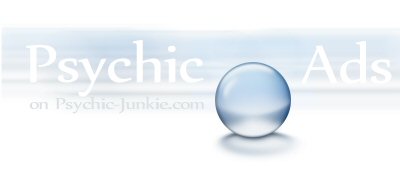 Links for Psychic Ads
You can run your psychic marketing on Psychic-Junke.com by utilizing Google AdWords and even specifically target certain high traffic pages.
If you would like to write an advertorial to run on this site please see my Advertising Psychic Services page first.
To learn how to create a psychic website that works! to run your own advertising upon see my advice for Psychic Webmasters. I've tips here for link exchanges, advertising avenues, psychic affiliate programs or the simple know how for building your own website of paranormal proportions.
Click here to run your advertising with Google AdWords on this site.