Virgo Horoscope Junkie
2014 Predictions
Virgo Horoscope Junkie predictions for 2014 (born between August 23 and September 22)
You're in the Great Company of These Famous Virgos:
Lyndon B. Johnson, Henry Ford II, Sophia Loren, Anne Bancroft, Leo Tolstoi, Leonard Bernstein, Arnold Palmer, Alan Jay Lerner, Cardinal Richelieu, Greta Garbo, Stephen King, Freddie Mercury, Michael Jackson, Sean Connery, Richard Attenborough, Lyndon Johnson, Ingrid Bergman, Gloria Estefan, Raquel Welch, Peter Sellers, D.H. Lawrence, Mickey Mouse, Richard Gere
To help in your 2014 achievements imagine being one of the above famous Virgos in various situations you find difficult. How would you portray a certain scenario if you were a D.H. Lawrence or how would a Freddie Mercury express yourself? This is a metaphysical way to call upon psychic Virgo Oomph when you need it.
Virgo-Letgo. Your motto is Let Goooooooooooooo! In every way you can release old baggage, hang-ups and frustrations. Cleanse your energy and aura. (Burn essential oil of lime in an aromatherapy burner if you have one.) Clear your vision and prepare yourself to let in the new.
Your Virgo 2014 Horoscope for Career. Put past issues behind you and apply for and attain promotions, new ventures or new projects. Although nothing happens overnight, you will succeed if you keep your eyes on the 'new' doors that open for you. Take on as much as you can, step up to all plates that call for volunteers. Keep saying "I can do that", "I will take this on', "I'm your man/woman" and by the end of the year you will be amazed at the progress made and new frontiers opened.
Your Virgo Horoscope for Love in 2014 is complex. In a good relationship, forgive and forget small hurts and you will transform your relationship into a partnership for life. But if you are alone and stuck in the past, hanging on to thin threads of hope. Waiting for resolutions that you know (deep down) are just not going to happen….. Virgo Letgo! Burn that lime, forgive and forget and within a very short time frame you will be welcoming in the new relationship. Can't let go? Step outside, pick a fellow Virgo from the list above or any other Virgo you admire, pull in that psychic Virgo Oomph, breath deeply and shout out the Virgo Letgo theme "N.E.X.T……..!"
Are you the Virgo on the other end of the stick? Can't move on because someone won't take no for an answer? Use the Greta Garbo Virgo Oomph…. "I want to be alone."
Your Virgo Horoscope for Life Path in 2014 is simple.Two words say it all. NEW PATH.
Virgo Horoscope Links: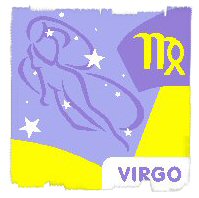 Virgo astrology factoids: read and comment or share your own predictions, insights or stories to make your own free Virgo Horoscope Junkie web page.
Find Your Spiritual Path, with an accurate astrology report that helps you to clarify and confirm your own, most intimate spiritual needs and desires. The right path is a source of peace and harmony that this report can help you to discover. Astrology-Junkie for Your Spiritual Path. Are you really meant for each other? An accurate astrology for lovers report can take a fascinating new look at your relationship... You and your lover's profiles are written just for the two of you: a counseling astrologer's guided tour of your relationship. Find out just how strong your relationship can be.
Know your Future: Now you don't need to wonder what's in your future, because you can consult your own Virgo Horoscope for your future predictions.
Know Your Child: An astrological manual for raising a healthy, happy child.
Know your Lover: Now you can know what astrologers know about successful relationships.
Know your Self: Analyze your your own Virgo Horoscope chart, then do your family, then your friends, amazing and lots of fun.
Know through Astrology-Junkie.
The Jonathan Cainer horoscope forecasts are consistently on the ball. So be sure to read your Horoscope for the week ahead.
For instant answers to urgent problems pick up your free personalized horoscope here.