Aries Horoscope Junkie
2014 Predictions
Aries Horoscope Junkie predictions for 2014 (born between March 21 and April 19)
You're in the Great Company of These Famous Aries:
Charlie Chaplin, Doris Day, Bette Davis, Joan Crawford, Gregory Peck, Eugene McCarthy, Arturo Toscanini, Thomas Jefferson, Vincent Van Gogh, Johann Sebastian Bach, Warren Beatty, Virgil Grisom, Henry Luce, Robert Frost, Edward Steichen, Hugh Hefner, Aretha Franklin, Mariah Carey, Diana Ross, Elton John, Eric Clapton, Sir Alec Guinness, Marlon Brando, Doris Day, Ram Dass, Francis Ford Coppola, Omar Sharif, David Letterman, Dudly Moore, Peter Ustinov, Keira Knightley, Eddie Murphy, Patricia Arquette, Alec Baldwin, Victoria Beckham, Lara Flinn Boyle, Matthew Broderick, Mariah Carey, Jackie Chan, Kenny Chesney, Hayden Christensen, Marcia Cross, Russell Crowe, Claire Danes, Celine Dion, Shannen Doherty, Robert Downey Jr, Kevin Federline, Kate Hudson, Lady Gaga, Heath Ledger, David Letterman, Ewan McGregor, Rosie O'Donnell, Sarah Jessica Parker, Dennis Quaid, Steven Segal, Quentin Tarantino, Emma Watson, Reese Witherspoon. (You can add more in the comments at bottom of page)
To help in your 2014 achievements imagine being one of the above famous Aries in various situations you find difficult. How would you direct a certain scenario if you were a Francis Ford Coppola or how would a Ram Dass deal with the stresses in your life? This is a metaphysical way to call upon psychic Aries Oomph when you need it.
Alignment is the 2014 theme for Aries. Letting go of what is not aligned and bolstering up things that are. This may be gradual and take the whole year to complete because it's a slow process with very subtle but important changes. It will help you immensely to deepen your connection to Self. The more you know your self the easier it is to recognize what/who fits with you and what creates conflict.
Your 2014 Aries Horoscope for Career reflects this theme of alignment. You like to be on the up escalator in work and business. But that can take you through several departments that are not your thing. Go for the lift and aim straight for what you know you want. You could save years if you make the right short cuts now. Center yourself; meditate on your career path. Then focus on what is in front of you now. Is that in alignment of your ultimate goals? No...? Make some easy changes now. Yes…? Put your foot to the floor and pick up the pace.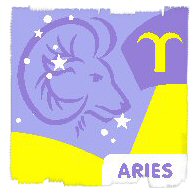 Your 2014 Aries Horoscope for Love could be daunting. Reinforcing a good relationship, one that is in alignment will be easy. All you add is commitment. And there are many ways to do that. If you're married consider re-affirming your vows, if you're dating and you know you are aligned, (remember the more you know yourself, the more you will know who fits with you best) the engagement or marriage maybe your next step this year.
But what if you know deep down you're on the wrong track. And what if that track has got so deep it's now a rut? First spend time to become more self aware. Then when you know what you want your future relationship path to be, you will need to face the music and make those challenging decisions. Arranging your relationship to run parallel to your future intended destination will be an important endeavor this year.
Your Aries Horoscope for Life Path in 2014 is to recognize that you have a life path then to have the courage to align all aspects of your relationships, work and business projects, everything that touches your life, into line so that everyone and everything is pulling or pushing in the same direction.
Aries Horoscope Links
Aries Astrology Factoids: read and comment or share your own predictions, insights or stories to make your own free Aries Horoscope Junkie web page.
Find Your Spiritual Path, with an accurate, Astrology-Junkie, astrology report that helps you to clarify and confirm your own, most intimate spiritual needs and desires. The right path is a source of peace and harmony that this report can help you to discover.
Are you really meant for each other? An Astrology-Junkie, Accurate Astrology for Lovers, report can take a fascinating new look at your relationship... You and your lover's profiles are written just for the two of you: a counseling astrologer's guided tour of your relationship. Find out just how strong your relationship can be.