Aries Horoscope Junkie
Aries Horoscope Junkie articles, reviews and predictions. 
Mythology: The Ram.
Gemology: Amethyst and Diamond
Metallurgy: Iron
Colorology: Red
Ruled By: Mars
Physiology: Pointed and protruding sheep-like nose, wide forehead, pointed chin and triangular face. Light brown or reddish hair. Slender, well formed body.
Planets in the rising sign: Aries with the Sun and Mars can make the complexion more florid. The Moon and Saturn can make it paler and darker. Jupiter and Venus can make the body more portly. Saturn can shorten the body. Uranus and Mercury can lengthen the body.
Characteristics: Aries people are bold, self-confident and impulsive; they aim to lead, dislike following, are always ready to take the initiative in any movement that appeals to them, but often lack persistence to carry their projects to a conclusion over serious obstacles.
Famous Aries Horoscope Junkies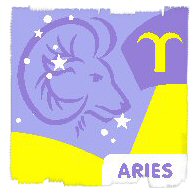 You're in the Great Company of These Famous Aries:

Charlie Chaplin, Doris Day, Bette Davis, Joan Crawford, Gregory Peck, Eugene McCarthy, Arturo Toscanini, Thomas Jefferson, Vincent Van Gogh, Johann Sebastian Bach, Warren Beatty, Virgil Grisom, Henry Luce, Robert Frost, Edward Steichen, Hugh Hefner, Aretha Franklin, Mariah Carey, Diana Ross, Elton John, Eric Clapton, Sir Alec Guinness, Marlon Brando, Doris Day, Ram Dass, Francis Ford Coppola, Omar Sharif, David Letterman, Dudly Moore, Peter Ustinov, Keira Knightley, Eddie Murphy, Patricia Arquette, Alec Baldwin, Victoria Beckham, Lara Flinn Boyle, Matthew Broderick, Mariah Carey, Jackie Chan, Kenny Chesney, Hayden Christensen, Marcia Cross, Russell Crowe, Claire Danes, Celine Dion, Shannen Doherty, Robert Downey Jr, Kevin Federline, Kate Hudson, Lady Gaga, Heath Ledger, David Letterman, Ewan McGregor, Rosie O'Donnell, Sarah Jessica Parker, Dennis Quaid, Steven Segal, Quentin Tarantino, Emma Watson, Reese Witherspoon.
(You can add more in the comments at bottom of page)


Sun In Aries by AstroKid
When The Sun Shines On Aries Horoscope Junkies
Aries is the exaltation-sign of the Sun and hence this is the most powerful position of the central orb. There it radiates a vital force of unexampled strength which gives you a wonderful fund of energy wherewith to withstand the onslaughts of disease. Should you be taken ill your powers of recuperation will quickly free you from the clutches of sickness. 

People having this position are principally liable to fevers on account of the fervent heat of the Sun in Aries. 

As Aries rules the head the excessive heat often dries up the scalp so that the hair cannot grow and you may have a tendency for baldness earlier than most. 

Your Horoscope Guest Posts: Adding your own Aries factoids or sharing your own predictions, insights or stories about Aries becomes your own free Aries Horoscope web page. (If you would like include your URL or contact details I will set the link once your content is approved).
Aries Horoscope Guest Posts
What do you like best about being Aries?

Perhaps you have something others under the Aries sign would like to know.

Or do you have an interesting Aries story to share?

What has been your most uncanny horoscope prediction come true?

Can you give an accurate Aries prediction for next week, month or year?

Share it here!

Published Aries Posts
Please read, rate and comment on the posts below.


Aries 2018 Predictions

Aries 2018 Predictions for Love A steady and peaceful year is ahead of you. Some may call this uneventful while others will welcome it with open …
Aries

Aries - The Ram: March 21st to April 20th The spring equinox, March 21, is the beginning of the new zodiacal year and the Ram is the first sign as it's …
Indigo Aries

I am Indigo Aries. The best thing I like about being an Aries is that I have a lot of courage and I love a good cause. I think me being an indigo throws …