Aries Traits 2013
Read your Aries traits for Love, Fun, Health, Lucky Numbers, Career and Finance in the 2013 Horoscope
Aries Love Horoscopes for 2013
2013 will be a happy year for you love-wise.
As someone who was born an Aries, you'll find it easy to attract the opposite sex to be interested in you.
This means that you'll quickly reach many accomplishments in your love life.
Even having a long term relationship or getting married isn't totally out of the picture.
This year will bring you a vast amount of diversity, as aspects of Jupiter and Uranus instigate fun life changes.
In your professional life, you will feel empowered and will succeed at everything you put your mind to.
2013 Health Traits for Aries
If your star sign is Aries, 2013 will bring fine moments of health for you.
It is predicted that you will be projecting an image of a body that is powerful as well as athletic.
There are pleasure trips in store for you in this year that will provide you with a much-required tonic for your overall health and well-being.
Aries Career and Finance - 2013
Harmony will be enjoyed throughout this year in all aspects of your life including home, work and relationships.
You will continue to achieve the targets that you set for yourself, and ensure that you continue along your path of success.
Once you understand the full reality of life, you're financial and personal expectations will be fulfilled.
Securing the perfect career will enable you to display your creativity.
Horoscope Lucky Numbers for Aries in 2013
44 27 16 9 3 77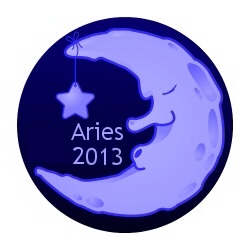 Links for Aries Traits
Click here for Psychic Search results focused on Aries Horoscopes

The Aries symbol of the ram is based on the Chrysomallus, the flying ram that provided the Golden Fleece in Greek mythology. The fleece has long been a symbol of authority and kingship. Another interpretation of the golden fleece is based on the way in which gold could be obtained by soaking the fleesce in the streams where gold dust was being washed down from areas of gold in ancient Greece. The fleece was uses in a similar way to the pan in gold panning. So some traits for Aries can be attributed back to these olden ways of acquiring gold. Read more on Wiki