Capricorn 2012 Predictions
Capricorn 2012 Predictions (December 22 - January 19)
Mature and intelligent Capricorn, represented in the zodiac by the goat, boasts a great sense of mental stability and many admirable qualities.
Capricorns, those admirable people born between December 22nd and January 19th, are practical, patient, forward thinking, confident individuals who carry with them a deep sense of purpose.
This ambitious earth sign that's ruled by the planet Saturn is in store for quite a few surprises in 2012 along with one well deserved success after another.
Love and Relationships: Capricorn 2012 Predictions
Contentment abounds and love flows freely at home thanks to the planetary alignments this year that positively influence Capricorn. Goats should experience smooth sailing throughout most of 2012 as their already satisfactory social life takes a turn for the better.
Adored and revered by many, all Capricornia are persuasive and able to make friends wherever they are. Plenty of mingling with family, friends, and colleagues bring out the best in Capricorn, who, at times, have the tendency to be too serious in spite of their most valiant efforts.
A minor mishap or misunderstanding possibly related to money matters could be on the horizon for Capricorns in regards to their most important personal relationship. Rely on patience and an open mind while dealing with any setbacks or discord. Communication and compromise are key as the last six months of the year bring back both harmony and bliss.
Career and Finance: Capricorn 2012 Predictions
Able to excel in just about any industry or career they choose, hard working, demanding, and continually determined Capricorns should see 2012 as a stepping stone for future success. Take care of projects left unfinished in 2009 while short and long term goals come to fruition this year.
Entrepreneurial Goats could see favorable revenues and financial prudence causes cash flow to stabilize this year, but be wary of potential troubles mid to late year. Fortunately, these problems are solved after actively working to find viable solutions, something Capricorn never seems to have much difficulty doing.
Do watch for potential upsets in the workplace caused by uncooperative superiors or jealous coworkers who don't have anyone's best interests in mind. Whether it's at the office or when dealing with business competition, keep tempers in check while realizing that losing your patience now could come back to haunt you later on unfairly.
Academic success due to both natural intelligence and dedication are quite possible in 2012 for Capricorn, especially when research, development, or education are involved.
Health: Capricorn 2012 Predictions
The first nine months of 2012 prove to be rather peaceful and uneventful in matters of health and well being for Capricorn, but the last quarter could bring with it a few minor ailments related to both the chest and stomach areas.
Capricornians are notorious for staying on top of their health and making sure to see the doctor or take their medicine when needed, which serves them well this year and in the future.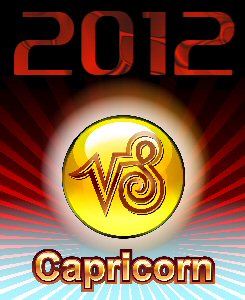 The yearly horoscope for Capricorn is a rather busy one as well as one that brings with it a sense of contentment, happiness, and encouragement for surviving 2012.
Archived Capricorn 2012 Predictions