Sagittarius 2012 Predictions
Sagittarius 2012 Predictions (November 22 - December 21)
Ever positive Sagittarius, represented in the zodiac by the centaur, a half man, half horse commonly seen in Greek mythology, possesses a gentle, honorable nature along with an exuberant take on life that's usually contagious. Sagittarians, or those people born between November 22nd and December 21st, are widely known for their extreme trustworthiness, honesty and a stellar track record of keeping their word even throughout the most adverse of circumstances.
In the year 2012, most lucky Sagittarians are in store for an exciting time ahead that begins rather memorably for this energetic and passionate fire sign.
Love and Relationships: Sagittarius 2012 Predictions
The inquisitive nature of Sagittarians causes them to love exploring and experimenting with new things and ideas, making them quite knowledgeable on a wide variety of fascinating subjects. Relationships with children blossom this year especially in social settings as both young and old flock to Sagittarius thanks to their adventuresome attitude and sunny outlook.
Disappointments, setbacks, or heartbreaks don't really seem to have the same effect on optimistic Sagittarius who has a great ability to see the best in any situation, which will definitely come in handy when dealing with difficulties on the home front sometime during the first six months of 2012.
Exercise caution when it comes to problematic issues while relying on hard work and dedication to mend damaged relationships, romantic or otherwise. Also seek advice from the older and wiser who can offer real words of wisdom.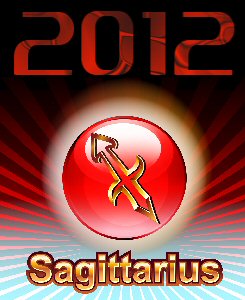 Career and Finance: Sagittarius 2012 Predictions
With a strong sense of character and history of dependability, Sagittarius is duly admired and respected in the workplace. Both confidence and excitement build as some long overdue recognitions finally come into the spotlight. The first quarter of 2012 sees the most success in terms of career and finance with the second quarter mirroring the first thanks to Sagittarius' intense efforts.
A possible new business venture could also transpire during this time for Sagittarius who will spend the last half of the year working to retain the momentum achieved earlier on. Some time will also be spent sidestepping a few tense moments in May or June before things start to improve once again.
For those Sagittarians who are involved with computers or technology, continued research and higher learning will prove to pay off handsomely in the last part of the year especially to facilitate promotions or similar advances later on in 2011.
Health: Sagittarius 2012 Predictions
In general, Sagittarius usually enjoys excellent health, although in 2012 the Centaurs should be on the watch for potential problems with the nervous system or those related to the skin during the first few months of the year. And, those Sagittarians who have been meaning to get in better physical shape will finally be able to meet their goals this year with some will power and dedication to a healthier way of living.
Although 2012 is coupled with both great success alternating with brief periods of sadness or disappointment for Sagittarius, these idealistic and dynamic individuals will remain firmly committed to their goals and beliefs while surviving 2012.
Archived Sagittarius 2012 Predictions