Sagittarius Traits 2013
Read your Sagittarius traits for Love, Fun, Health, Lucky Numbers, Career and Finance in the 2013 Horoscope
Sagittarius Love Horoscopes for 2013
As a Sagittarian, you'll find yourself to be too shy to express your love and other positive emotions towards your chosen partner.
In addition, there are some emotional and relationship storms coming your way.
This bad weather is likely to reach you by mid-year, so be prepared to pay special attention then, so that you can resolve of all your major disputes and disagreements and avoid any negative outcomes.
You will feel full of life throughout 2013, and no obstacles will stand in your way of your life ambitions.
Pluto and Jupiter will work together, to ensure that your optimistic outlook continues and that the constraints of life remain buried.
Close relations will be launched and achieved, however, you need to take the time to slow down and reflect.
2013 Health Traits for Sagittarius
2013 will be looking good for you, at least for the first half of this year.
As such, you can expect illnesses not to be a major factor and your energy levels to be quite elevated.
Still, it is recommended that you do not neglect your condition and still see your physician for regular check-ups like you normally would.
Sagittarius Career and Finance - 2013
Drastic changes that will happen during 2013 may seem daunting; however, they are for the best, and will ensure that you can succeed.
With the support of your family and friends, you will be able to enter into the new chapter of your career.
As your popularity grows within your workplace, you need to ensure that you allow the praise to flow.
This will provide you with further confidence for the future.
Horoscope Lucky Numbers for Sagittarius in 2013
55,41,63,87,5,22,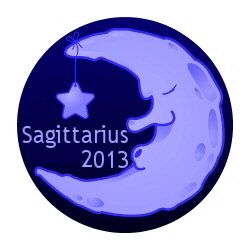 Links for Sagittarius Traits 
Click here for Psychic Search results focused on Sagittarius Horoscopes

The symbol for Sagittarius is the archer which is based on the centaur Chiron (held to be the superlative centaur among his brethren), who mentored Achilles ( a Greek hero of the Trojan War) in archery. Sagittarius is represented by the symbol of a bow and arrow. Sagittarius is the centaur of mythology, half human and half-horse, the learned healer who forms a bridge between earth and Heaven. For more on this star sign you can read more on Wiki