Scorpio 2012 Predictions
Scorpio 2012 Predictions (October 24 - November 21)
Highly persuasive Scorpio, represented in the zodiac by the symbol of the secretive scorpion, are those passionate and magnetic individuals who were born between October 24th and November 21st.
Scorpio has no problem excelling in whatever they do and this interesting sign possesses a number of admirable qualities beginning with an intensity that is rarely seen that allows them to achieve challenging goals that others deemed impossible.
The year of 2012 could bring with it a few dramatic changes for Scorpio who must continue to rely on their boundless energy to fully enjoy what lies ahead.
Love and Relationships: Scorpio 2012 Predictions
Home life should be quite extraordinary and fulfilling in 2012 for Scorpios as their personal relationships between spouses, children, and close family members see either a renewal of existence and or a deepened and unwavering bond admired by many.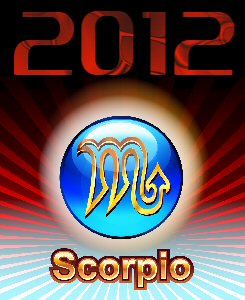 On the social front, Scorpio skittles about wherever their intelligent and intuitive mind takes them. This year make it a point to resist the urge to be jealous or vindictive while realizing that such emotions are inevitably counter productive to either peace or success.
Avoid marital discord caused by a lack of communication, misunderstandings, or both, especially toward the end of the year. Maintaining a positive outlook while continuing to be thoughtful are two of the best things Scorpio could do while remembering to be open and honest when it comes to their feelings and emotions at all times.
Career and Finance: Scorpio 2012 Predictions
Some long awaited changes should arrive during January and February in the workplace as Scorpios may be on the receiving end of a well deserved and enviable promotion or pay increase. However, neither of these may be exactly up to par, or what you had initially hoped for, but continue to enjoy the beginning and middle of the year in a low-key manner while biding your time for bigger and better things to soon come along.
The Scorpion continues with their enthusiastic attitude this year while tapping into their seemingly endless supply of energy in order to realize their goals while taking advantage of several incentives along the way. And, for those who work in a laboratory setting or a scientific environment of some type, 2012 could prove to be a rather memorable year in more ways than one.
In matters of investments or new business ventures, the latter part of the year is the ideal time for positive results as everything Scorpio touches seems to magically transform into gold.
Health: Scorpio 2012 Predictions
Although Scorpios tend to be prone to minor health complications, especially those disorders that are somehow related to the digestive system, the first half of the year should be surprisingly uneventful in this regard. However, those familiar ailments may surface again from October to December so use the beginning of 2012 to become as healthy as possible while protecting yourself from potential stomach problems.
Surviving 2012, Scorpio will continue on with hard work and dedication, which pay off handsomely as this year could prove to be one of the most memorable and eventful of all.
Archived Scorpio 2012 Predictions