Taurus Horoscope Junkie
Taurus Horoscope Junkie articles, reviews and predictions. 
Mythology: The Bull
Gemology: Moss Agate and Emerald
Metallurgy: Copper
Colorology: Yellow
Ruled By: Venus
Physiology: Short and stocky body with a strong neck. The bump of amativeness (at the base of the skull) well developed, large ear lobes, heavy jaws, full face with a short and stubby nose, soft dark eyes and wavy hair. Strong, sturdy hands and well developed calves with chubby feet, walks heavy and heel first.
Planets in the rising sign: The Sun rising in Taurus gives an unusually firm physique, and accentuates the Taurus pride in strength. The Moon in Taurus can lead to high fertility and sexual stamina. Venus, the ruler of Taurus, rising in that sign, makes the form beautiful as well as strong, also giving artistic ability and musical inspiration.
Characteristics: Thorough and steadfast in everything they do: In love, in hate, in work or play, they persist in a given direction, and neither reason nor argument will turn them. They are verbose and argumentative in defense of their actions or opinions; they grasp new ideas slowly, with difficulty and conservatively, but once comprehended and espoused, they always remember what they have learned and defend their opinions to the last ditch.
Your Own Horoscope Junkie Guest Posts: Adding your own Taurus factoids or sharing your own predictions, insights or stories about Taurus becomes your own free Taurus web page. (If you would like include your URL or contact details I will set the link once your content is approved).
Famous Taurus Horoscope Junkies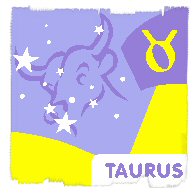 You're in the Great Company of These Famous People born under the sign of Taurus: Dev Patel, Bono, Cate Blanchett, Cory Monteith, William Shakespeare, Henry Fonda, Barbra Streisand, Shirley MacLaine, Al Pacino, Audrey Hepburn, Channing Tatum, Harry Truman, Benjamin Spock, Nicklai Lenin, Edmund Wilson, Queen Elizabeth II, Princess Charlotte, Perry Como, Bing Crosby, Jerry Seinfeld, Jamie Dornan, Willem de Kooning, Willie Mays, Yehudi Menuhin, Eddie Arnold, Carol Burnett, Peter Ilyich Tchaikovsky, Stevie Wonder, Leonardo Da Vinci, Yehudi Menuhin, Jack Nicholson, Frank Capra, Oliver Cromwell, Karl Marx, Sigmund Freud, Eva Perone, Enya, George Clooney, Uma Thurman, Fred Astaire, Florence Nightingale, Willie Nelson, Tina Frey, Megan Fox, George Lucas, Cher, The Rock - Dwayne Johnson, Adele, Enrique Iglesias, David Beckham Billy Joel, Mark Zuckerberg, Janet Jackson, Penelope Cruz. 
(You can add more in the comments at bottom of page)

Read Your Free Professional Forecasts - Updated!
Write Your Own Taurus Horoscope Guest Post
What do you like best about being Taurus?

Perhaps you have something others under the Taurus sign would like to know.

Or do you have an interesting Taurus story to share?

What has been your most uncanny horoscope prediction come true?

Can you give an accurate Taurus prediction for next week, month or year?

Share it here!

Published Taurus Posts
Please read, rate and comment on the posts below.