Taurus Traits 2013
Read your Taurus traits for Love, Fun, Health, Lucky Numbers, Career and Finance in the 2013 Horoscope
Taurus Love Horoscopes for 2013
I have good news for you, too. Your romantic life will be on the rise as well.
Even though you'll have to tackle some smaller disputes between you and your significant other, there's absolutely no need to fret.
These debates will be only smaller disagreements, but nothing serious to worry about. Also, you may find that one or more of your ex-lovers will appear out of nowhere to meet you, but luckily they won't affect your current relationship in a negative way.
During 2013, you will feel the need to explore your inner self, and expand your creativity to ensure that you can succeed.
The predictions for your life will include aspects of Uranus, Pluto and Jupiter, which will all have affected you.
You need to take control and improve your work and home conditions. Ceasing the day will bring fantastic opportunities, and immense pleasure.
2013 Health Traits for Taurus
When you start out 2013, be aware of your energy levels becoming quite vibrant and strong. However, you have to be on guard with regard to the kinds of foods and liquids you consume!
You should also be on guard against any digestive disorders in your future, and you ought to also take better care of your teeth in 2013.
This vigilance about your health also extends to driving, so be careful when doing that activity.
Taurus Traits for Career and Finance - 2013
There is plenty of work to be done throughout 2013, and you will be confident that the tasks will be completed. You will need to display all of your organization skills, and be assertive to achieve the results you desire. The tensions that you have been feeling towards financial situations will begin to reduce and stabilize. You will be provided, with more time to enjoy the fruits of your labor with the people you love.
Horoscope Lucky Numbers for Taurus in 2013
74,7,9,19,37,3,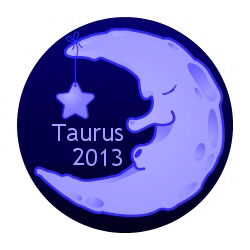 Links for Taurus Traits
Click here for Psychic Search results focused on Taurus Horoscopes

Taurus is the Latin word for bull. In Greek mythology, The symbol of the bull is based on the Cretan Bull. Pasiphaë (the daughter of Helios/the Sun) fell in love with Cretan Bull and then gave birth to the Minotaur. The Minotaur was a creature with the head of a bull and the body of a man. Taurus represents a strong-willed character with great perseverance and determination. Read more on Wiki