Virgo 2012 Predictions
Virgo 2012 Predictions (August 23 - September 22)
Virgo, perhaps the most colorful of all the sun signs in all the zodiac, rules those highly intelligent people who were born between the days of August 23rd and September 22nd. Although this particular sign is uniquely represented by a feminine image commonly referred to as "The Virgin," Virgo is anything but weak, fragile, or inexperienced. Strong and always demanding of the best, erudite and refined Virgos boast many other noble characters including having steadfast values and a creative, inventive personality.
Some long overdue and well deserved good luck is in store for the sign of Virgo in 2012, although the upcoming year will not be without a few challenges to deal with along the way.
Love and Relationships: Virgo 2012 Predictions
Punctual and practical almost to a fault, Virgo must remember not to be too suspicious of others this year as not everyone is operating with ulterior motives in mind. Also, do watch for signs of domestic discord at home, either indirectly or directly related to you, that could have something to do with work or money. Virgo should exercise caution in this area and make sure any problem that arises is quickly solved.
Career and Finance: Virgo 2012 Predictions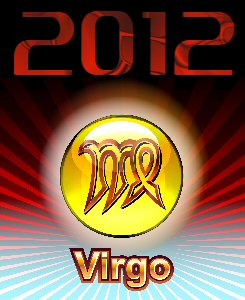 Virgos should prepare themselves for plenty of change and transformation on the work front, which could, unfortunately, equate to an increase in pressure. Chances of progress or promotions at work are slim during the first half of 2012 with the first quarter proving to be exceptionally trying. The Virgin should rely on their conventional wisdom and avoid making any hasty decisions without thinking of all of the potential outcomes.
Prospects for furthering education are good this year as Virgo could find 2012 to be a rather productive time and quite promising in this regard. Despite the good news, finances may not be too favorable during the first two quarters, but the latter portion of 2012 does bring about stability although a long awaited pay raise or promotion may not ever materialize this year.
November and December are probably the best months for getting finances in order and for earning more income. Ever prudent Virgos should have no trouble playing their cards closely to the vest in order to avoid any difficulties.
Health: Virgo 2012 Predictions
Most all Virgos should enjoy a quiet year of relatively good health, especially up until the months of May or June. After July arrives, watch for some potential problems related to the circulation system or in regards to mental health issues.
Do make all attempts to keep stress and unnecessary irritations at bay, which could easily plague Virgo during the first half of the year, while also keeping in mind that mental relaxation is just as important as physically resting the body. Don't allow tension to get the better of you this year, allowing you to continue on in your endeavors to conquer the world.
Overall, Virgo is in store for an interesting and promising year with both solace and contentment finally arriving after surviving 2012.
Archived Virgo 2012 Predictions