Virgo Traits 2013
Read your Virgo traits for Love, Fun, Health, Lucky Numbers, Career and Finance in the 2013 Horoscope
Virgo Love Horoscopes for 2013
If you're a Virgo I have both good and bad news for you. In the beginning of 2013 you'll have some smaller disputes with your life partner. Fortunately, with time, you'll manage to solve all of these little misunderstandings, but only if you can act patiently and be careful to listen to whatever your partner says. With any luck, these little fights will be bring you even closer to each other.
This is your year and you will embrace every aspect fully and succeed in every field. You will begin to feel the immense satisfaction of security and happiness. The impulse of Mars will direct your actions to ensure that you release yourself from the emotional burdens which you have been experiencing.
2013 Health Traits for Virgo
In 2013, you might have to deal with smaller health situations such as anxiety or even blood pressure problems, but these will only strike you in an intermittent fashion. It is also a good idea to watch out how much work you take on, as your otherwise okay health might just be negatively affected if you take on too much work in your career.
Virgo Career and Finance - 2013
There are several difficult moments throughout the year, however, you will take the situation in your stride and accomplish your goals. You will need to remain calm and patient, to ensure that you achieve the financial rewards you deserve. The people that you work with and your superiors will begin to see another side to you, and you can prove that you are worth investing the time and effort in to achieve the best.
Horoscope Lucky Numbers for Virgo in 2013
12,14,6,78,49,18,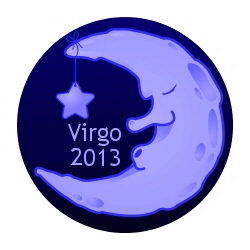 Links for Virgo Traits 2013
Click here for Psychic Search results focused on Virgo Horoscopes
The symbol of Virgo is based upon the maiden Astraea. She was the last immortal to abandon Earth at the end of the Silver Age, when the gods fled to Olympus – hence the sign's association with Earth. Virgo people are very concerned around health and wellness, because of this, they tend to remind others to take care of their mind and bodies. For more info you can read about the personality traits of Virgo on Wiki