Aura Readings
by ROBERT BRENNER
(Melbourne, Florida)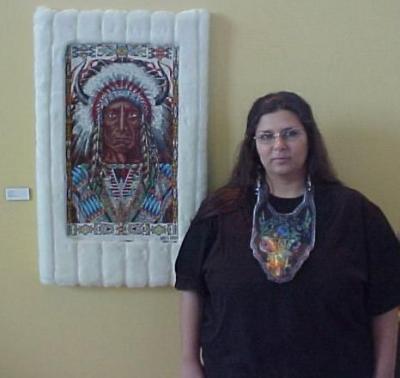 Katt with Chief Red Bull
Hello my name is Robert Brenner and I do aura readings online.

I got a photo from a lady for a reading, I could tell it had been cropped from a larger photo. She gave no details as to what she wanted to know. The photo is just a basic head shot. Top of the head to the waist and shoulder to shoulder.

I sat with the photo and then spirit starts typing. The message was,

"There is a powerful energy off to your side. It is the energy of a powerful, native American Indian Chief"

She wrote back and asked me what photo she had sent because she thought she sent the wrong one. I returned it to her. Then she came to me via instant message and we chatted. She was blown away about the information I had sent to her. Then she said, I will send you the photo that I cropped myself out of.

When I got her next email and opened the photo, I could not believe it myself.

It was a photo of her, the one I already had but had not been cropped. On the wall to her right side was a piece of artwork she had created, hanging on the wall. It is a rugpull, I think you call it, of a chief Red Bull, who joined forces with Sitting Bull to take down, Custer in Custer's Last Stand. I still have the photos!