Cancer Traits 2013
Read your Cancer traits for Love, Fun, Health, Lucky Numbers, Career and Finance in the 2013 Horoscope
Cancer Love Horoscopes for 2013
If you were born in the cycle of the Cancer you'll experience only positive things happening to you regarding your love life.
Or at least that's what will happen in the first few months...
Later, especially in the second half of the year, you'll have to pay more attention and be more patient with your partner to save your relationship.
Bottom line: you'll experience both good and bad things happening in your life, with good things being in majority.
The immense effort that you have put in over the last few years will ensure that you are rewarded in 2013.
Every area of your life will be touched, and your conscience will become clearer as you see your predictions as they should be.
2013 Health Traits for Cancer
Your health for 2013 is shaping up alright, but only if you take certain steps to increase its chances of turning out okay.
You have to stop eating unhealthy foods like junk food, especially if this is purchased from any roadside shops.
This is also a good year to try something new for your health, such as yoga, in order to develop your mental toughness.
Cancer Career and Finance - 2013
Hard work is the key to a successful career for you this year, and you need to banish all of the tedious tasks from your life.
The obstacles, which you face throughout the year, will make you far stronger.
The planets throughout the horoscopes are facilitating incredible achievements, and you need to cease the opportunity.
You need to prove to people that you are the best at what you do in every area of your life.
Horoscope Lucky Numbers for Cancer in 2013
54, 19, 3, 14, 67, 1,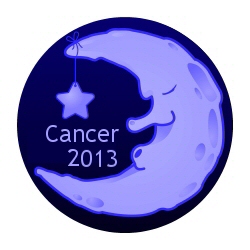 Read More About Cancer Traits
Click here for Psychic Search results focused on Cancer Horoscopes

The symbol for the star sign of Cancer is the crab. In Greek mythology this is based on the Karkinos, a giant crab that harassed Heracles during his fight with the Hydra. Personality traits for Cancer are associated with the characteristics: watery, phlegmatic, eloquent, cardinal, northern, commanding, nocturnal, tenacious, intuitive, and fruitful. Cancer is associated with watery areas such as the sea, lakes and rivers.