Pisces 2012 Predictions
Pisces 2012 Predictions (February 19 - March 20)
Dynamic and quick minded Pisces, the twelfth and last sign of the zodiac, should prepare themselves for an interesting year of ups and downs along with a few unexpected challenges. This water sign, which rules those who were born between February 19th and March 20th, is characterized by adaptability, empathy, and kindness, three distinct qualities that allow Pisceans to be both well liked and successful in their endeavors in 2012.
Pisces does have a natural tendency to allow their nerves to get the better of them, especially when overwhelmed with responsibilities or when falling behind on tasks. But, the agility the Fish is known for along with their deep thinking will allow them to prevail even during times of strife, just be sure to keep negative thoughts at a minimum.
Love and Relationships: Pisces 2012 Predictions
New love may be on the immediate horizon for unattached Pisceans while those who are already in a relationship will experience a renewed sense of commitment and interest in 2012. On the family front, things will be rather pleasant this year for the ever devoted Pisces who should look to their children and spouses for sources of inspiration and joy.
In spite of the mostly harmonious year ahead, the third quarter might bring about a minor disagreement of sorts with members of the opposite sex and extra care should be paid to matters of love during October and November. Control feelings of anger and use your diplomacy skills to mend fences as soon as possible.
And be prepared for others to come to you this year during times of despair. Despite Pisces great need to be supportive of people around them, they often forget to tend to their own needs, which is essential in order to continue helping others.
Career and Finance: Pisces 2012 Predictions
2012 seems to be a year of success and satisfaction on the career front for Pisceans who should jump at the chance at any overseas, work-related travel opportunities. You will be able to come up with some new ideas for streamlining work tasks or for facing challenges more effectively, however, you may want to avoid starting any new businesses or partnerships this year due to a number of potential hurdles later on down the road.
This year gives Pisces the opportunity to clear up the vast majority of their debts, although this should be done early on in 2012 as income potential could go down throughout the year.
Health: Pisces 2012 Predictions
Although the first half of the year is uneventful in matters of health and wellness, Pisces should be on the watch for minor problems during the last two quarters of 2012. Bouts with colds or the flu, stomach ailments, headaches, and back or joint pain could soon surface, so pay close attention to any subtle signs of possible illness during this time. Health problems may plague loved ones around you this year, making it important to stay in tune with relatives and friends.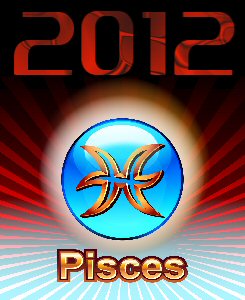 Overall Pisces will be able to enjoy a mostly pleasant year in surviving 2012 and build a strong foundation for the following year with their vast intelligence and intuitiveness.
Archived Pisces 2012 Predictions